FIXTURE DESIGN
At Cullen 3D Design, we specialise in custom fixture design services, providing unique, efficient, and cost-effective solutions to meet your specific needs. We understand that the key to successful manufacturing lies in robust, high-quality fixture design. Our team of expert engineers excels in creating fixtures that optimise production processes, improve efficiency, and reduce costs. Whether your needs are for automotive, aerospace, or any other industry that relies on precision assembly and quality control, we've got you covered. We are committed to innovative design and the use of cutting-edge technology to provide fixtures that exceed your expectations, enhance productivity, and ultimately, boost your bottom line. Trust us to transform your fixture design vision into a tangible, productive reality.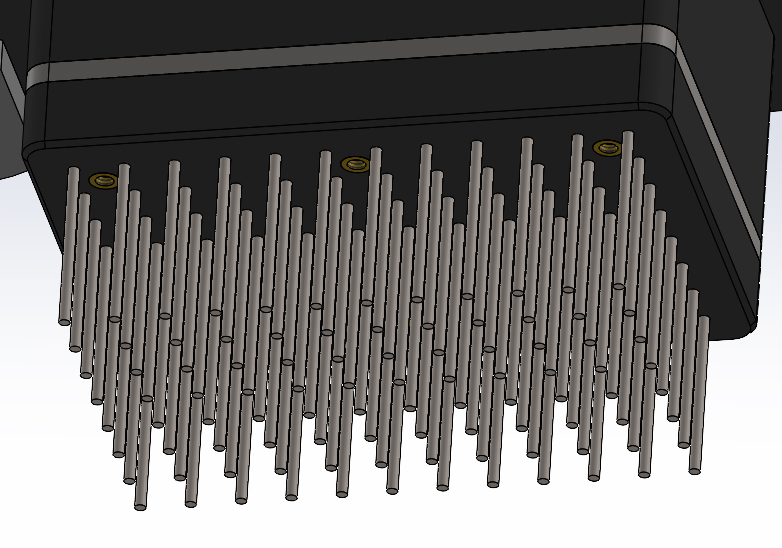 Design a fixture for removing inserts from an aluminium plate. Our customer has inserts that are pressed into an aluminium plate for use on their production line, after a set number of cycles the inserts have to be removed from the plate and new inserts put into the plate. There are a total of 96 inserts in each plate and they were currently removing each insert one by one by taking a hammer and a Ø2mm pin and manually knocking each insert out of the plate 1 by 1, this as you can imagine was very time consuming.
The final design has to have the following characteristics
Fit into an existing press tool that our customer has in their production line

Be lightweight and easy to move around

The plate with the inserts had to be precisely located in the new fixture so that all 96 ejection pins would line up exactly with the inserts in the plate

Have a spring loaded upper section to retract all of the ejection pins

Incorporate a tray to catch all of the ejected inserts
Part 1 – Design
Initially we visited our customers site to take measurements and details of the existing press tool that our new fixture would have to fit into. We also took dimensions of the existing plate with the inserts that are to be removed from it.
We decided to go with a combination of 3D printed and stainless steel components so that the fixture would be as lightweight as possible while also maintaining its strength where necessary. This decision then drove how we would proceed with the design as we used our expertise in 3D printing to design the components so that they could be 3D printed in the most efficient manner possible while also maintaining their strength.
Working within the design constraints as outlined above we came up with a concept design that we felt would work. We then presented this design to our customer for review.
Our customer was happy that the design would work for them and that it filled all of their requirements so we then proceeded to to fully finalise the design and to produce manufacturing drawings for the components
Part 2 – Manufacturing and Assembly
We then proceeded to manufacture and assemble the fixture. We ordered the stainless steel components and hardware from external suppliers and we started 3D printing the components on our in house 3D printers.
We used our Markforged 3D printers to print the parts in carbon fibre reinforced nylon so the 3D printed parts were strong but still lightweight.
Once we had all the components ready for assembly we then assembled the fixture and tested it to make sure that it worked correctly before delivering it to our customer.
Gallery of the full project